NFL Players Rank Donald Penn 97th Best
April 28th, 2012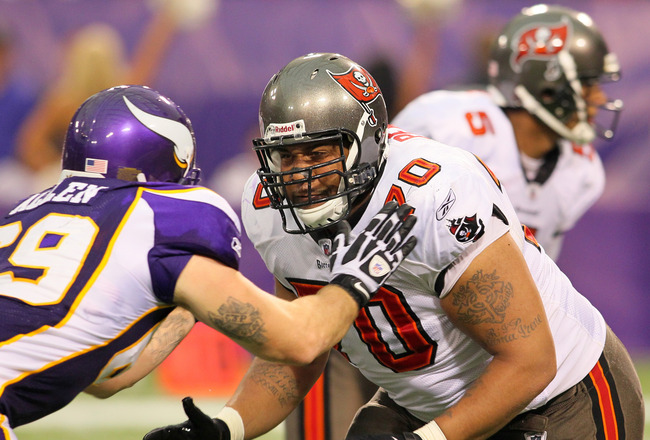 What a great opportunity for Joe to smack all the Bucs fans that emerged from their caves to smack Donald Penn around when they realized the Bucs might have a shot at drafting Matt Kalil.
Sure, Joe was on board with a potential Kalil pick. He would have looked great at right tackle as the left-tackle-in-waiting for two or three seasons. But many Bucs fans were eager to draft Kalil and kick Penn to the curb completely via trade.
This is and was mind-boggling to Joe, and clearly mind-boggling to NFL players, who voted Penn the 97th best football player in the league.
The Top-100 of 2012 countdown show on NFL Network (the real man channel not viewed at home by men whose ladies own the remote control) began tonight with Nos. 91-100 unveiled. Those honored are voted in by NFL players.
Joe can't understand why some fans are quick to blast Penn. The man has started 76 consecutive games and played damn well. So what if he mows down the doughnuts. At worst, Penn is a Top-13 left tackle. When he's playing well, he's elite.
Joe expects another Pro Bowl season from Penn in 2012. Clearly his peers do as well.