Dan Persa To Work Out For Bucs
April 28th, 2012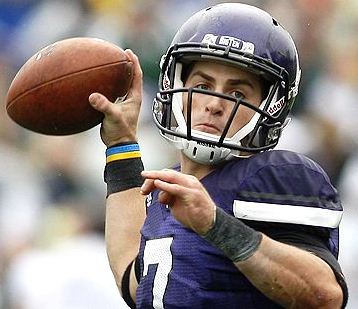 Bucs newly drafted tight Drake Dunsmore may have an advantage when he reports to Bucs rookie minicamp, tentatively scheduled for next weekend.
That's because his stud college quarterback, Dan Persa, will be joining him.
Though the Bucs have not signed Persa (yet), he told the Chicago Tribune that he plans to work out for the Bucs next weekend and hopes to impress Greg Schiano enough to warrant a free agent contract, reports Teddy Greenstein.
@TeddyGreenstein: Dan Persa tells me he will head down to Tampa Bay next weekend. He is unsigned but hopes that will change after his workout.
Personally, Joe is geeked about this. Persa was one of Joe's favorite quarterbacks to watch. Sort of a modern day Doug Flutie, Persa was dangerous both with his feet and his arm.
The old cliche about how scouts can't measure heart perfectly describes Persa. It's a shame that Persa went down with an Achilles injury at the end of the 2010 season as he rallied Northwestern to a major upset over Iowa in the snow at Evanston.
Persa never seemed to recover from that injury last year and was hobbled all through the 2011 campaign.
If Persa has (finally) recovered from his Achilles injury, Joe's confident he could make a run at making the Bucs final roster as a No. 3 quarterback.