Najee Goode A Greg Schiano Guy
April 28th, 2012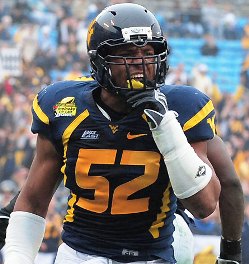 As Joe suggested to his good friend "The Commish," Justin Pawlowski of WQYK-AM 1010, there is a pattern the Bucs are building which Joe believes to be "Schiano Guys," players who seem to fit a mold that new coach Greg Schiano wants: tough, physical, diverse, good fundamentals.
This also seems to describe fifth round pick, linebacker Najee Goode.
Of course coaching at Rutgers in the Big East, Schiano knows this player well. Likely recruited him too coming out of high school.
Goode is versatile in that he can play both inside and outside linebackers. He's physical enough that he can shed blocks from the biggest of offensive linemen.
Here is Goode's profile from ProFootballWeekly.com:
Good flow speed and leaping ability. Plays on his feet and can bend his knees. Solid instincts. Active hands. Wrap tackler. Can turn and run with tight ends. Versatile — has played all three linebacker spots. Has special-teams experience.
The Bucs are clearly targeting upgrading their linebackers, a man walking with a white can can see this. It was a unit that sorely needed help.