Appears Schiano Will Use Diverse Defense
April 28th, 2012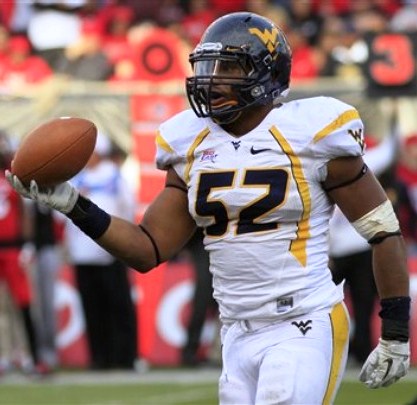 Greg Schiano comes from the paranoid branch of the Bill Belicheat and Tuna Parcells tree. Talking about what brand of toothpaste one uses may tip off state secrets which will threaten the freedom of the republic.
Hence, Schiano has done his best to keep people guessing what defense he is going to run.
However, given the defensive players Schiano and Bucs rock star general manager Mark Dominik have drafted, there is a clear pattern, especially on defense.
Schiano, who confessed on SiriusXM NFL Radio in February that the Bucs may run a 3-4 and may run a 4-3, are acquiring defenders who are diverse, reinforced by the selection of West Virginia linebacker Najee Goode today.
Schiano wants diverse players. Mark Barron was listed as an "athlete" coming out of high school. Lavonte David played both inside and outside linebacker but has all but been told he will be a weakside linebacker. Goode also has experience playing both outside and inside.
What do the picks tell Joe? First, Schiano likes physical players. Two, he likes fundamentally sound players. Third, it appears Schiano likes guys who can be plugged into different spots when needed.
The fact that Schiano has chosen two linebackers who can play both inside and outside also tell Joe that Schiano was sickened at the play of the Bucs linebackers last year, just like Joe was.