Look For Another West Coast Guy
April 28th, 2012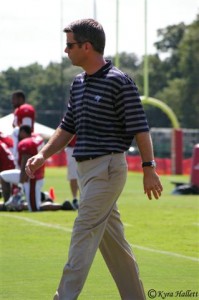 Mark Dominik just snatched Utah State running back Michael Smith in the seventh round, which doesn't surprise Joe since part of the strategy in picking a seventh rounder is taking a guy you doubt would come across the country to sign with your team as an unrestricted free agent.
Take last year's seventh-rounder Daniel Hardy. He was an Alaska native that played for Idaho. Erik Lorig was another example, a Stanford guy who grew up in California.
The theory is the West Coast kid won't pick Florida if he has offers closer to home, so you draft who you like but think won't come to you in free agency.
Joe will bet a few nickels the Bucs grab another Left Coast player with their final seventh-round pick.