Justin Blackmon Over Trent Richardson
April 24th, 2012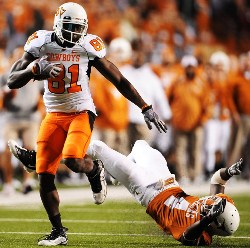 Gauging the pulse of Bucs fans, it seems no subject has fired up fans more than the debate about the merits and drawbacks of drafting Alabama running back Trent Richardson since the Bucs cut soon-to-be Hall of Famer and all-time favorite Derrick Brooks.
Joe has made his voice clear on this issue. So Joe's trying to bring additional views into the mix.
Good guy Charlie Campbell, formerly of PewterReport.com, has been working for WalterFootball.com for just about a year now. Campbell's main focus year-round is the NFL draft.
In a recent mailbag on his site, Campbell explains why he would take both Oklahoma State wide receiver Justin Blackmon and/or LSU cornerback Morris Claiborne over Richardson.
From Edmund Kuhn, Bangor, Maine

"I noticed in your big board you have Trent Richardson behind Justin Blackmon and Morris Claiborne. Most rate Richardson ahead of them. Why do you have Richardson behind them? "

That is another good question, and I can answer that in a number: 30. In doing the Big Board, I take into account longevity and how long a player will be playing. By the time those three players hit 30, Richardson could easily be on his last legs or he could already be done in the NFL. That is just the nature of the beast at running back. Wide receiver and cornerback are different. There are many effective wideouts and corners who are Pro Bowlers at 30 and even playing well into their mid-30s. You don't see that at the running back position.

Thus, Blackmon and Claiborne could be in the middle of a second long-term contract and performing well while Richardson's career is at the end. Blackmon and Claiborne could be starters for 10-plus years. Richardson won't make it that far and is more like a 5- to 8-year player. That is the reason why I have Richardson behind Blackmon and Claiborne.
This spooks Joe a great deal as well. Few running backs short of Barry Sanders make it to 30 unscathed. Many are on fumes by the time they get to 30.
Richardson reminds Joe of one of his favorite running backs, another Crimson Tide man, Shaun Alexander. For seven years, Alexander was a wonderful back, thrilling, fantastic. One of the NFL's best.
But the constant wear and tear and the brutal beating he absorbed finally took its toll. Alexander's last year in Seattle, he was 30, and a mere shell of his former self. He was out of the league a year later.