Bucs Steal Lavonte David!
April 27th, 2012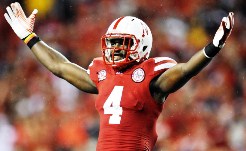 Eddie Van Halen is humbled. The rock star comes through again!
Bucs rock star general manager Mark Dominik stole Nebraska outside linebacker
Lavonte David
.
Joe is simply geeked about this. Joe is a Big Ten honk and watches Big Ten games religiously on The Big Ten Network. Joe first noticed David as the dude was a ballhawk, flying to the ball from sideline to sideline. Joe wrote about his desire for David back in December.
This is a freaking dynamite pick! For reasons unknown, David and other linebackers slipped and slipped and slipped until Dominik couldn't wait any longer and pulled the trigger with the Texans in order to get David.
This is the third time in this draft, third time in two days, Dominik has traded up or down to get the man he wanted.
The cool thing about David, in addition to his talents, is that he was coached up by one of the better defensive coaches in the land, Bo Pelini.