Bucs Not Trading Aqib Talib
April 18th, 2012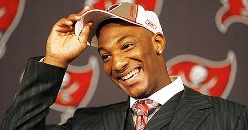 Not surprisingly, after Scott Reynolds of PewterReport.com suggested the Bucs had troubled cornerback Aqib Talib featured on the NFL's trading block, Joe suspected that there would be dissenting opinions and they are already flying in.
One would be from NFL Network's Jason La Canfora who all but said a trade of Talib will not take place any time soon.
@JasonLaCanfora: Would be very surprised if the Bucs did shop CB Aqib Talib. They love his play and have stood by him despite off field issues.
This is the way Joe looks at it: First, with Talib facing a suspension from NFL warden commissioner Roger Goodell, if not a prison sentence in a Texas penitentiary, just what general manager would give the Bucs a decent draft pick for the guy?
Remember, a player of far more impact who had a demonstrated ability to make big plays in the biggest of games, Santonio Holmes, could only fetch a fifth round pick. Why? Partially because he was facing a suspension (not a potential prison sentence).
So to expect the Bucs to get anything better than that is, well, Joe believes, wishful thinking.
Does Joe believe Bucs rock star general manager Mark Dominik to be gauging other general managers if there is interest in Talib? Sure.
But interest and draft picks are two different things.