Does Finnegan Fit The New "Buccaneer Way?"
March 9th, 2012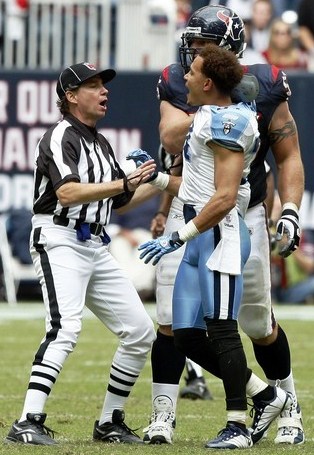 Of course, nearly every cornerback this side of PacMan Jones seems like a model citizen when compared to Aqib Talib.
Joe gets why lots of Bucs fans would cheer if Talib was cut tomorrow. But then Joe looks at soon-to-be-free-agent cornerback Courtland Finnegan, who has a history of on-field anger issues. The guy was fined three times by Roger Goodell in 2010; one followed an ejection.
Sure, Finnegan hasn't belted cabbies or swung deadly weapons at teammates, but the guy has black marks in his past. Plus he had a bizarre alleged contract holdout last season.
Then there's the widely held knock on Finnegan that he's only a slot cornerback.
Regardless, Finnegan is a good football player, and likely a heck of a lot better than Myron Lewis or E.J. Biggers, but Joe's wondering whether he's a character guy Greg Schiano and rockstar general manager Mark Dominik allegedly are seeking to emulate the new "Buccaneer Way."
Those who hate Talib for being a loose cannon might find the same kind of guy in Finnegan if he joins the Bucs — and at three or four times the price.