Trent Richardson = Larry Johnson?
March 31st, 2012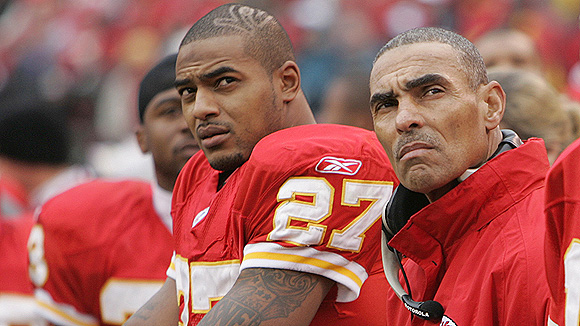 Once upon a time not too long ago Larry Johnson was a manbeast of an All-Everything Penn State running back drafted by the Chiefs in the first round.
Kansas City used him sparingly before he tore up the NFL in his third and fourth seasons. Johnson carred the ball a whopping 752 times for a stunning 3,539 yards and 38 touchdowns in 2005 and 2006. Then Johnson was paid a king's ransom, hurt his foot and never was close to the same.
So who cares, Joe?
Well, noted NFL Draft guru Wes Bunting, of NationalFootballPost.com, compared Johnson and Trent Richardson this week during an interview with Tom Krasniqi of WHBO-AM 1040. Bunting said the two had similar strengths, and speed.
"The biggest misconception with running backs that people think, and the average fan thinks, is that big plays and long runs are predicated off straight-line speed, which couldn't be further from the truth." Bunting said. "It's a running back's ability to make a man miss at the first level and/or break a tackle, which Trent Richardson does very well. I remember when Larry Johnson led the NFL in long runs, 20+ yard runs, when he was in his heyday with the Chiefs. The guy couldn't break 4.6 [in the 40-yard dash], but he had good short-area quickness and was physical at the first level, broke a ton of tackles and accelerated quickly. I think Trent Richardson does that as well as anyone."
Hearing this, of course, reinforced the fragility of running backs to Joe, as any memory of Larry Johnson would.  
As loyal JoeBucsFan readers know too well, Joe wouldn't touch a running back with the Bucs' No. 5 overall pick for three reasons: the Bucs already have a talented beast of a running back, the Bucs can grab a stout complementary running back in the second or third rounds and a solid backup in free agency, plus the Bucs have built such a monstrous offensive line that the new stable of backs should have no trouble moving the chains.
What the Bucs can't grab in later rounds is cornerback Morris Claiborne.
As for Bunting, after raving about Richardson left and right, he played Bucs general manager and said the Bucs should draft Claiborne because the position "is a higher priority" in today's NFL and because Claiborne and Richardson scored the same grades on his draft board.