Talib Trial Moved With "Special Set"
March 20th, 2012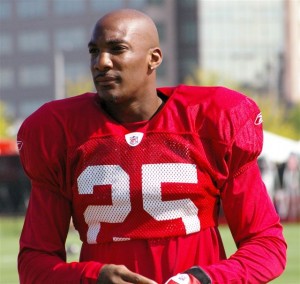 Aqib Talib's felony assault with a deadly weapon trial date in Dallas has been moved to April 16 and the case will be tried, Talib's attorney Frank Perez told JoeBucsFan.com this afternoon.
The trial was bumped from March 26 and granted a "special set" by Dallas County. Perez said that means the trial definitely will start on that date and will not be moved again.
"We were upset the date was moved; we were ready to go. But there was a personal situation with the prosecutor having a child on the way so that's where we are," Perez said.
Perez said there have been no substantive discussions about a plea agreement and he's not interested in a deal. Talib will stand trial. He also said he completely expects Talib to be exonerated.
"I expect the trial to last three or four days. There are a lot of witnesses," Perez said.
If the timetables hold true, justice will find Talib prior to the NFL Draft, something the Bucs must be pleased to hear.
For those who want to read the case file and brush up on the shaky charges against Talib, feel free to click here.