Aqib Talib Accuser Adds To His Rap Sheet
March 21st, 2012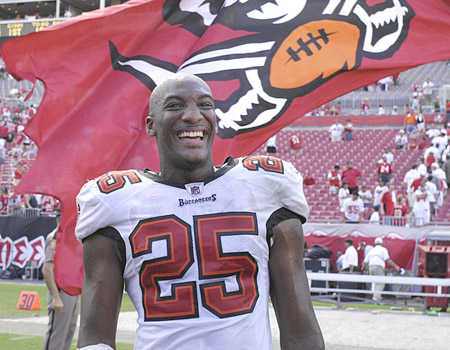 The strange case that troubled Bucs cornerback Aqib Talib faces in a Texas courtroom next month just got a little bit juicier.
On face value, it seems Talib cannot stay out of trouble. In fact, it seems Talib is a magnet for trouble. So it wouldn't shock Joe if he has to plead out.
That written, the claims against Talib, upon further review, seem dubious.
Well, the credibility of Talib's main accuser, Shannon Billings, who was romantically involved with Talib's sister, has taken a major hit since the alleged incident took place, so reports Rick Stroud of the Tampa Bay Times.
Shannon Billings, 41, the former live-in boyfriend of Talib's sister, is sitting in Dallas County jail on a bond of $265,000 after being arrested March 1, 2012 on charges of indecency with a child/sexual contact.

Billings, a registered sex offender with the state of Texas, was also arrested Dec. 10, 2011 on a charge of sexual assault and was jailed on $25,000 bond. However, the grand jury returned a 'no bill,' in the case, according to court records.
What a charming fellow this Billings seems to be.
Given Billings' numerous, distasteful brushes with the law, his accusations against Talib almost seem to be no more than a money grab: "Give me a half-million and I will change my story."
It wouldn't be the first time Joe smelled a shakedown against Talib.