Josh McDaniels' Brother Joins Bucs
March 1st, 2012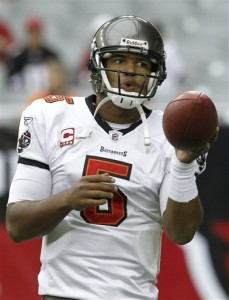 The younger brother of Josh McDaniels and the former Broncos QB coach, Ben McDaniels, may have emerged as the new man to mold Josh Freeman as the Buccaneers quarterbacks coach, so reports CoachingSearch.com.
The Bucs have snagged him out of his brand new gig at Columbia University, which also is confirming the hire.
Tampa Bay Bucs: Sources tell me that Columbia offensive coordinator / quarterbacks coach Ben McDaniels will be joining the Tampa Bay Bucs staff.
The Bucs, however, have not confirmed this report.
Interestingly, McDaniels was recently named to the Columbia staff by ex-Bucs offensive line coach Pete Mangurian, who was Raheem Morris' former boss at Cornell University, a former Patriots tight ends coach under Bill Belicheat, and a guy known as a foul-mouthed, ball-buster when he guided the Bucs' O-line to great achievements in 2010. Mangurian was sent packing by the Bucs after that season.
So via the association to Mangurian, Joe will assume that McDaniels is a no-nonsense guy. He also played quarterback for Kent State. And perhaps Greg Schiano's close ties to Bill Belichick, who re-hired Josh McDaniels, somehow played a role in this hire.
Of course, Ben McDaniels' ties to Tim Tebow are sure to grab plenty of headlines; anything Tebow does that. So Joe expects this move to actually ridiculously excite casual football fans across the Bay area for that reason alone. Maybe even sell some tickets.
UPDATE: Trusted sources have told Joe that McDaniels will not be the Bucs quarterback coach, though his specific position and duties with the team are unclear at the moment.