Good Middle Linebackers Still To Be Had
March 2nd, 2012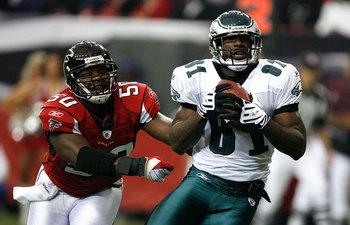 How pitiful was the Bucs' linebacker play last year during the grotesque 10-game losing streak? Let Joe explain.
After watching the Bucs play matador defense, sans the red cape, allowing opposing running backs to run at will down the sidelines, there were multiple beer bottles laying at Joe's feet following games with Joe hoping that somehow the next beer would numb him enough to delete the game from Joe's memory bank.
Joe is still looking for that Holy Grail of beers.
So to suggest that the Bucs could use an upgrade at linebacker play via free agency is akin to saying it would behoove a Bucs fan's experience at games if Rachel Watson would sit next to said fan, scantily attired.
There have been hints that rather than making big splashes in free agency, Bucs rock star general manager Mark Dominik will get a slew of decent players because the Bucs roster needs depth.
This led Joe to believe that Lions middle linebacker Stephen Tulloch would be a good fit now that the pride of Seminole High School, D'Qwell Jackson, re-upped with the Cleveland Browns.
It seems someone of the same mind is Pat Kirwan, the former NFL coach and front office executive, and current SiriusXM NFL Radio talking head and CBSSports.com columnist. Kirwan believes that both Tulloch and the Dixie Chicks middle linebacker Curtis Lofton would be solid, affordable pickups, so Kirwan Twittered.
@PatKirwanCBS: D'Qwell Jackson deal sets the table for the Curtis Lofton and Stephen Tulloch deals. Both younger and just as productive.
Now Joe really likes the idea of the Bucs getting their mitts on Lofton. The Dixie Chicks' middle linebacker is entering his fifth NFL season and he's been calling the defenses for an Atlanta run defense that has been very solid during his tenure. While he doesn't have a boatload of tackles, he couldn't be worse than what the Bucs have.
More importantly, which is why Joe is big on the Bucs grabbing cornerback Brent Grimes, is that while the Bucs would be adding to their roster, they are also weakening a divisional opponent at the same time.
That's what's called a win-win.