Prepare For Draft Party Blowouts
March 27th, 2012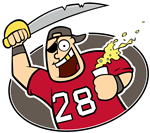 Mark it down. Joe's preparing to co-host insanely enjoyable NFL Draft parties at a local establishment for Round 1 of the draft (Thursday evening/night April 26) and Rounds 4-7 (Saturday April 28).
Joe won't be rolling out complete details until probably Monday, but it's all rounding into shape so Joe wanted to throw out a little heads up.
Joe's expecting the beer and glorious food to be flowing, along with former and current Bucs mingling about, jersey giveaways and a big piece of the puzzle Joe can't even hint at just yet.
That's enough of a tease for now. Just save the dates.