Mike Wallace And The No. 5 Pick
March 9th, 2012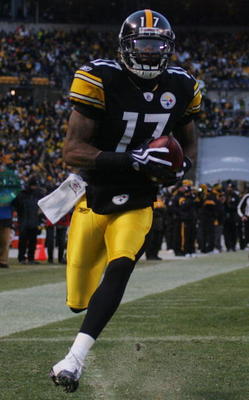 The Bucs have so many holes, it's difficult at times for Joe to figure out which hole is most serious to fill with the No. 5 pick.
Cornerback, linebacker, wide receiver, Bucs rock star general manager Mark Dominik could do no wrong going after either of these positions with the fifth overall selection.
That brings Joe to a question lobbed at Woody Cummings of the Tampa Tribune in a TBO Bucs Q&A recently about the Bucs perhaps giving up the first round pick for Pittsburgh restricted free agent Mike Wallace.
Q: Is is worth it to the Bucs to give a first-round draft pick and the money to get Mike Wallace from Pittsburgh? Is he the wideout the Bucs are looking for?

Ruben Acero, Tampa

A: The thing that Wallace brings is experience and in your scenario the Bucs would know exactly what they're getting from an NFL standpoint. That makes the whole idea a viable option, because he would give the Bucs the speed element they're looking for. If the Bucs believe that speed element is worth the fifth overall pick in the draft, they just may take a chance and offer Wallace a contract. Chances are, though, the Steelers would match the deal.

– Woody Cummings
As Joe stated above, there are any number of ways Dominik could go with the fifth overall pick. He could fill the greatest need available (as of today) and pick LSU cornerback Morris Claiborne. He could go linebacker with Alabama's Courtney Upshaw. He could go wide receiver with Oklahoma State's Justin Blackmon.
But if Dominik was inclined to draft Blackmon at No 5, why not pull the trigger on Wallace? Unlike Blackmon, who Joe believes would be a fine player, why not go get a burner in Wallace who has already proven to be a top-flight receiver?