Mason Foster May Not Move To Outside LB
March 16th, 2012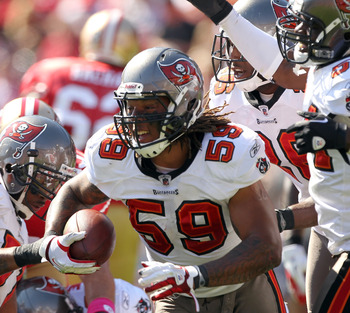 Joe hates to keep banging the drum on this, but to deny it would be irresponsible.
The Bucs linebacker unit was simply downright dreadful last year, perhaps worst in the NFL. Once opposing running backs turned the corner, it was as if the pups at Derby Lane were rounding the turn for the stretch run after that elusive electronic rabbit.
Now part of the reason was rookie Mason Foster. Joe's not going to nitpick Foster because the guy was a rookie and, despite what some will tell you, was playing out of position as he was an outside linebacker in college at Washington.
Throw in the fact he was being force-fed play calling duties — with no offseason to speak of — it was a recipe for disaster. And it was.
Folks, playing outside linebacker in the (then) PAC-10 and playing middle linebacker in the NFL is leap of many football levels of talent.
In the offseason, it was believed the Bucs would move Foster back to the outside where he may be more comfortable and be able to utilize his skills a bit better. But hold up, says Bucs rock star general manager Mark Dominik, by way of Woody Cummings of the Tampa Tribune. Foster may just end up in the middle when the Bucs kick off the 2012 season.
"We are talking to the (coaches) about Mason Foster being the 'Mike' linebacker of this team," said Dominik, using the common reference for middle linebacker. "I think the coaching staff that has been in here evaluating that tape feels like he has a great opportunity to … stay at the middle linebacker spot."
Well, to this Joe suggests Dominik better pull a rabbit out of his hat and get a wicked, beastly outside linebacker to replace Geno Hayes or Quincy Black like South Carolina DR/OLB Melvin Ingram.
Of course, this can all be a moot point if the Bucs are able to get Curtis Lofton or Stephen Tulloch to come to their senses.