Four-Year Deal For Zuttah
March 5th, 2012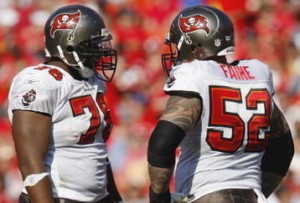 It'll be interesting to see how much the Bucs shelled out to keep Jeremy Zuttah on his new four-year contract.
The Bucs made Zuttah's new deal official today, locking up the guy who can play any position on the offensive line and has proven to be a legitimate starter at guard and center. No numbers have surfaced online as of yet.
Joe suspects Zuttah was paid mid-level starter money,  handsomely in the neighborhood of $10 million guaranteed and $4.5 million per season. Otherwise why would Zuttah sign before hitting the market?
Young guys with Zuttah's versatility, ability and character are not a dime a dozen. Jeremy Trueblood, of all people, signed a two-year $10 million deal after the lockout.
Now go get Carl Nicks, move Zuttah to center, and find a young right tackle in this O-linemen deep draft to push Trueblood and eventually replace him.