Dominik Gets "Good" Grade
March 27th, 2012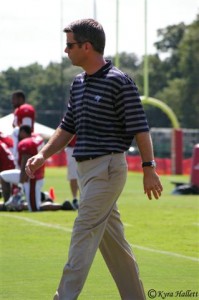 It really doesn't matter if Joe calls Mark Dominik a rockstar every day. What's far more interesting and key is whether Team Glazer believes he's a rockstar, or at least a successful general manager.
Now Dominik's teams have a putrid 17-31 combined record, but any thinking fan can't pin too much of that on him. And Team Glazer even gave Dominik high marks today in a sit-down with eye-RAH! Kaufman of The Tampa Tribune.
Q: How would you assess Mark Dominik's first three years as general manager?

Joel Glazer: Mark has done a good job. We've had a plan and he has managed, through some tough waters, to stick with that plan. In any situation, you're going to have some negatives to point to, but I think that's the case with any team in the NFL. He knows what he wants to accomplish and he has stuck with it. The coaching process was not easy and he did a great job helping us navigate through that. In free agency, it's not easy to come out of the blocks and get all the guys signed up. I'm very pleased with the direction we're headed.
Joe wonders how Team Glazer assesses Dominik. Do they have an independent third party review his football decisions?
Regardless, Joe agrees that Dominik has done a good job in his tenure. It's just too hard to dish out the "great" label without a team in the playoffs.