Complementing LeGarrette Blount
March 28th, 2012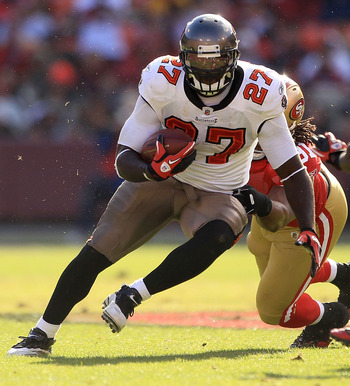 Now that famed NFL draft guru Mike Mayock of the NFL Network — in just a matter of days — has gone from saying there is no way he would draft Trent Richardson in the top 10 to just this week claiming the Alabama running back is a top-five talent, many Bucs fans, seemingly unaware the Bucs already have a running back on the roster, have gone completely loco.
Perhaps forgetting the Bucs back seven on defense has more holes and question marks than a game of "Battleship," these same fans actually believe it is wise to ignore this and draft where there is not a need.
That doesn't mean Richardson will be available, if he is the next Jim Brown as some suggest. If the Bucs do not draft Richardson, Woody Cummings of the Tampa Tribune is confident the Bucs will draft a running back at next month to complement LeGarrette Blount.
Q: Is there more a need to take Justin Blackmon or Morris Claiborne as far as the fifth pick? I don't see the Browns passing up on Richardson. Is Ronnie Hilman of interest if LaMichael James is unavailable in the second round? And are there any pending free agent fullbacks in the league left? Do we have the money to spend?

Tyrone Odom, San Diego

A: Claiborne probably fills a bigger need. Even though the Bucs added Eric Wright and will have Ronde Barber back, they still don't know how much access they'll have to Aqib Talib and you just can't have enough top-level corners. As for the running back issue, I still think the Bucs have a good shot at getting Richardson, but if they don't they'll grab someone to complement LeGarrette Blount. At fullback, there really isn't much out there. Earnest Graham, 32, may be the best of the bunch, but he's coming off that Achilles tendon tear. The Bucs believe they have a starting caliber FB in Erik Lorig, so it's really a backup that they're looking for. They can pick that up off the street at almost any time.
As much as Joe loves Earnest Graham, there are not too many players in their 30s in the NFL who rebound from an Achilles injury, much less a 31-year old running back.
Rather than get a clone of Blount with the fifth overall pick when the defense is in dire need of cornerback and linebacker help, Joe likes the idea of grabbing LaMichael James, a true burner, later in the draft.