Bucs Might Be Finished In Top-Tier Free Agency
March 14th, 2012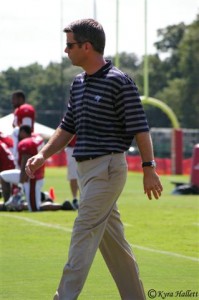 The Bucs landed three huge fish in free agency over the past 24 hours, and rockstar general manager Mark Dominik seemed to imply that the big-game hunting is over.
Asked about what might be next in free agency for the Bucs to close the introductory news conference of Eric Wright, Vincent Jackson and Carl Nicks, Dominik said, "as an organization, our eye is toward the NFL Draft."
Of course, the Bucs will sign more free agents to fill the roster and add depth, and Dominik's comment could be a bit of a negotiating ploy with other agents in players.
But Dominik could very seriously be closing the vault on landing bigger free agent names, which would make some fans cry. Hell, the Bucs just added about 25 million in payroll for next year. So that wouldn't be a huge surpise.
Dominik didn't dismiss that other players could be signed but added, "We are just about at the tail end" of chasing after players.
Dominik said that the new addition to the foundation — Jackson, Nicks and Wright –would likely be it until the draft.
Dominik also stated that the signing of Wright has zero bearing on whether Ronde Barber returns.
"All [Wright's signing] means is that Ronde will have a new teammate if he decides to come back," Dominik said.