The Case Against Trent Richardson
February 24th, 2012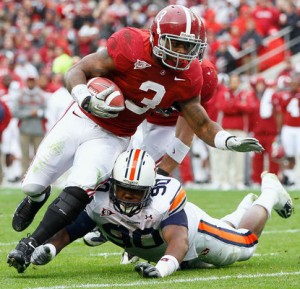 Now Joe has gone on record for years that drafting a running back in the first round is a terrible investment because, as a team, a club is paying top dollar for a player with a limited shelf life due to the physical punishment running backs receive.
Throw in the fact that there are so many good running backs drafted in late rounds or even pulled off the streets as a free agent, it's much better to draft a cornerback or an offensive linemen with a first-round pick as teams get far more bang for the buck.
Given how horrible the Bucs defense was last year, how the team could be looking at filling three holes in the secondary this offseason, drafting a running back — some fans are pining for Alabama's Trent Richardson — is simply irresponsible.
It seems the numbers crunchers at FootballOutsiders.com agree with Joe.
While their analysis of drafting running backs high in the first round is hidden behind a satanic paywall, ESPN's Pat Yasinskas cracked open the door a bit to give readers a glimpse of the FootballOutsiders' article.
The five leading rushers over the last five seasons are Adrian Peterson, Maurice Jones-Drew, Steven Jackson, Chris Johnson and Michael Turner. Those five have combined for two playoff wins as starting running backs (and that doesn't include two playoff victories Turner had as a backup to LaDainian Tomlinson with the 2007 Chargers).

The column then points to the backfields of the two Super Bowl teams. The New York Giants had Ahmad Bradshaw (a seventh-round pick) and Brandon Jacobs (a fourth-round pick). The New England Patriots had a pair of undrafted running backs in BenJarvus Green-Ellis and Danny Woodhead as well as third-round pick Stevan Ridley.
Well, you can go back a few Super Bowls and see the same evidence. Sure, the Steelers drafted Rashard Mendenhall in the first round and he's not come close to living up to his first-round billing. Hell, the Steelers won a Super Bowl with Mendenhall on injured reserve, and two years ago against the Packers, Mendenhall may have given the Super Bowl away when he fumbled deep into Packers territory in the fourth quarter when it appeared the Steelers were about to score.
Add to the fact the Bucs already have a running back, LeGarrette Blount. (It's not his problem he had a clueless offensive who didn't know how to use him.) Shoot, Blount had a grand total of five carries in the season opener — FIVE! That is no less than outrageous!
Could the Bucs use another running back for depth? Sure, a speedster like LaMichael James who is lightning quick and can catch out of the backfield (so can Blount).
No. Just no to Trent Richardson. The Bucs have way too many holes on defense.