"Not Going To Cry Over Spilled Milk"
February 13th, 2012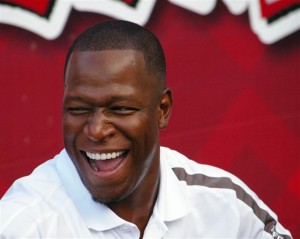 The ol' ball coach was vibing on local radio this morning.
During the interview with Dan Sileo on WDAE-AM 620, Raheem wouldn't toss around any blame or insight into what went wrong with the Bucs, other than to say it was all on him and he's "not going to cry over spilled milk." Raheem said the best way he knew how to fix the losing streak was to emphasize the core beliefs — all together now, "play hard, fast, smart and consistent."
On his you're-fired meeting with Team Glazer, Raheem said it was an emotional good-bye.
"When you're talking abou the Glazers, you're talking about guys I can call and talk to at anytime. You're talking about guys that can give you whatever you need. You're talking about if there was a complaint, if there was an argument, if there was a discussion, they were always open to talk about it," Raheem said. "So to be able to call those guys and have those kinds of open relationships, it's something you can't forget. Leaving those guys is bittersweet. Obviously, going somewhere else to learn something new is obviously going to be great for me, great for them. And, you know hopefully, we both enjoyed our time together. I think they told me the same thing in their meeting."
On the Tampa Bay area, Raheem said he won't be moving out of town — ever.
Raheem said he's been coming home on weekends from the Washington Redskins' compound and despite this weekend's cool weather in Tampa, he was "sitting outside with no shirt on on my deck."
Good luck being your best self, Raheem.