Greg Schiano's Staff Not That Unusual
February 23rd, 2012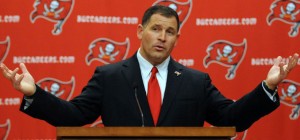 When the Bucs hired Rutgers coach Greg Schiano to replace jettisoned coach Raheem Morris, it was rumored that Schiano was going to bring in a lot of college coaches to round out his staff.
And while some like Tim Ryan invoked the name of Bobby Petrino at this news, ESPN's Pat Yasinskas is of the mind this tactic may not be a bad move by Schiano.
The Bucs haven't officially announced their full staff of assistants yet, but it has been widely reported that Schiano has hired at least six coaches that were on Rutgers' staff with him last year. It also was reported that he has hired P.J. Fleck, who had just left Rutgers to become offensive coordinator at Northern Illinois. So we'll say Schiano is bringing seven assistants that were with him at Rutgers last season. Schiano also has officially hired defensive coordinator Bill Sheridan, who recently had been hired for the same job at Ohio State.

That's really not all that unusual. I just took a look back to 2010 when Pete Carroll left Southern California to take over the Seattle Seahawks. He brought eight members of his Southern California staff and hired wide receivers coach Kippy Brown away from Tennessee. So roughly half of Carroll's first staff, and we're including strength and conditioning coaches, came from the college ranks.
That's an interesting take. First off, if Bill Belicheat's premise about Schiano is accurate, that Schiano will make a good NFL coach because he always produced talent that was prepared to play in the NFL, the same also could be said for some of Schiano's assistants, no?
Offensive line coach Bob Bostad has produced solid NFL offensive linemen at Wisconsin; Ron Cooper has produced solid NFL defensive backs at LSU.
So if the trait for Schiano of being able to develop NFL talent leads him to be a good NFL coaching candidate, then so should the staff he has handpicked.