Greg Schiano = Bobby Petrino?
February 6th, 2012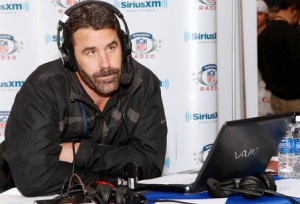 As many of Joe's regular readers know, Joe is addicted to SiriusXM NFL Radio. Perhaps the most in-depth X's and O's show on that channel is "Movin' the Chains," co-hosted by former NFL executive and NFL coach Pat Kirwan and former Bears defensive tackle and current FOX NFL analyst Tim Ryan.
For NFL fans more interested in strategy as opposed to ticket sales or how much money an owner spends, this is your show. It is no less than fascinating… riveting in fact.
Last offseason, it was Ryan who beat the drum about how the Bucs were making a grave mistake in letting Barrett Ruud walk. Ryan went on to say that if Ruud were to leave the Bucs, "the Bucs defense would collapse."
How'd that analysis work out, huh?
Last week at Super Bowl Media Day, Joe had a chance to speak with Ryan, who was gracious enough to give Joe his time while at work during a commercial break. Ryan is not a member of the national chorus that has thus far given the Bucs a thumbs-up for hiring Greg Schiano. Color Ryan skeptical.
JoeBucsFan: Did the Bucs paint themselves in a corner waiting so long to hire a coach?
Tim Ryan: I don't think so. I think they did their due diligence and talked to guys who have done it before and who have had success in this league. And they decided to go with the young guy, which is very interesting to me, especially when you look at [Schiano's] track record in pro football. And he may be a great guy, and I will give him the benefit of the doubt. But there are going to be tremendous obstacles to say the least in my opinion trying to be competitive and win games in that division when you start looking at the Saints, you start looking at Carolina, look at Atlanta, the coaches on those teams not to mention who is going to coordinate his offense. He will probably have his mind on defense since he is a defensive guy. I know they are still trying to get John McNulty out of Arizona. They seem hellbent on at least pursing that as long as they can pursue it. I think there are a lot of questions marks left in Tampa after the hiring of Greg Schiano.
Joe: A lot of Bucs fans are concerned about his lack of NFL experience. Sure, he has been with good coaches. Yeah, he worked with Butch Davis. Yeah, he worked with Joe Paterno. Yeah, he worked with Dave Wannstedt, who is a good defensive coach. But he only has two seasons in the NFL and there is talk he's going to bring a bunch of college guys in.
Ryan: Well, good luck with that and again, I will give him the benefit of the doubt and we will wait and see what happens. I have talked to a lot of guys who have been in this league a long time, and I have seen what this league is all about. This is a league that is won — everyone has athletes — you win with strategy, you win with a "what-if" list that is a mile deep. Pro football is a whole different animal. I have heard from a lot of guys that have been in the business for a long time and I say, "Your thoughts on the Schiano hire?" and they give me one name: Bobby Petrino. And when I hear that, that is what some of the people from the outside looking in kind of are thinking. I know he has promised to reattach to the fanbase. The only way to reattach to the fanbase and fill seats is to win games. So we will see what happens.
Joe: When you reference Petrino, what are you inferring?
Ryan: Just a college guy with limited NFL experience, when you are talking about college guys running both sides of the ball. We will wait see what happens with Butch Davis who can certainly coach defense. I have known him for years, he recruited me in high school. He's an extension of Dave Wannstedt also from the Cowboys. [The Schiano hire] created for me more questions than buzz and excitement.