Warren Sapp Angry Over Mike Sherman Talks
January 8th, 2012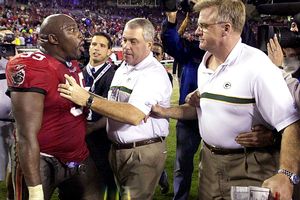 When Joe first learned that Bucs rock star general manager Mark Dominik was interviewing former Packers and Texas A&M coach Mike Sherman to fill the void of jettisoned Bucs coach Raheem Morris, Joe wondered, "What would Warren Sapp say?"
In case Bucs fans have a short memory, Sapp, the greatest defensive lineman to play for the Bucs since Lee Roy Selmon, and Sherman, then the Packers coach, nearly came to blows after a close Bucs win at home when Sherman approached Sapp and called him a cheap shot artist, among other unpleasantries.
Sapp, who had to be restrained by several people from tackling Sherman himself, yelled at Sherman to "put a jersey on" so Sapp could crush him like bug.
Now, that same coach seems to be just a step or two away from coaching Sapp's beloved team and the quarterback killer was none too pleased as he took to Twitter earlier today.
@QBKilla: Mark Dominik Hiring Your Agents Client (Mike Sherman) Is Not Da Way To Win Football Games!! #WhereTheyDoThatAt … 25-25 At Texas A&M?? … How Can a General Manager That Leaves Work Everyday At 4pm! Hire a Head Coach?? #HireAFriend
Now Joe has no idea where Sapp is getting the "leaving at 4 p.m." stuff from, but let's say Dominik did do that. Does anyone really believe Dominik can't get the same work done at home at night that he can in the office? What, Dominik doesn't have broadband cable at home? Can't use an iPad because his house doesn't have a wireless router? Dominik doesn't have a smartphone, can't access his office voice mail? Please.
Later, when Sapp's co-host of NFL Gameday Morning, Rich Eisen, relayed to Sapp Jason La Canfora's report that the Bucs were hours away from interviewing Brad Childress, Sapp had this reaction.