THE OPTIMIST: Freeman Is The Man
January 8th, 2012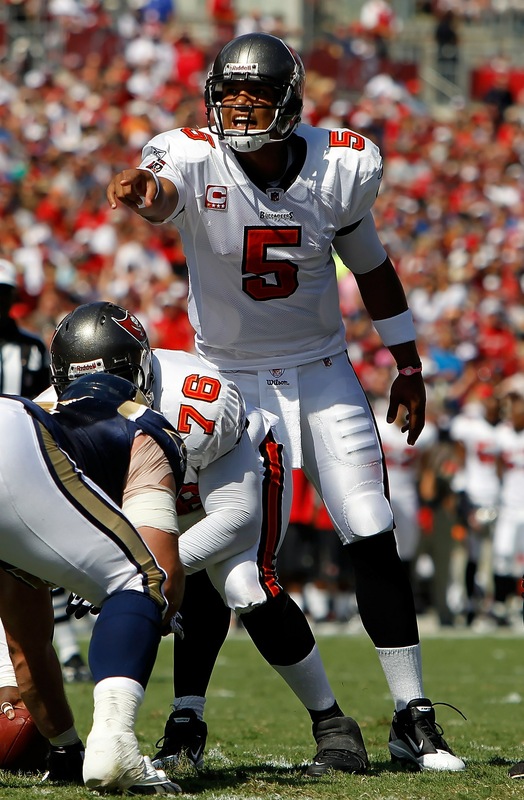 You've all read THE PESSIMIST, who spews his Bucs-related anger like no other. But Joe also brings you THE OPTIMIST. 
THE OPTIMIST is Nick Houllis, a Bucs fan and an accomplished writer whose steadfast allegiance to the Buccaneers goes back to the 1970s. Houllis is the founder, creator and guru of BucStop.com, a place Joe goes to get lost in time via Houllis' stunning video collection.
THE OPTIMIST will shine that positive light in your eyes. Some will love it. Some won't. … Of course, THE OPTIMIST's opinions are his alone and are not influenced by Joe.
Lay off Josh Freeman.
Watching the season-ending debacle last Sunday, I paid some attention to Twitter feeds during the game and was amazed by Tweets about Josh Freeman once the game got out of hand.
Freeman should have been benched like Blount was for turning the ball over, some Tweets said. Never mind James Lee did an OLEY block letting John Abraham come in untouched while Freeman was looking left, or that Kellen Winslow screwed up and ran the wrong route; right into Bucs' RB impersonator Kregg Lumpkin, the result of which was a Pick-6.
People actually wasted their time complaining about Freeman. Did anyone watch Sean Jones or Geno Hayes? Quincy Black took on horrible angle one specific play, amazing since he was only two feet away when he did it!
"Defense is on the field all the time because of Freeman," another fan wrote. Really? Sunday, once again, the Bucs QB took the field for his second possession already down 14-0.
That wasn't Josh Freeman's fault, and it happened all year long. Only twice did the Bucs scored first last season: Week 1 vs Detroit (3-0) and week 13 at Jacksonville (14-0). That's it, besides that, Freeman gets the ball for the first time usually down 7-0.
How many times? Eight times, half a season, the Bucs offense began their second possession already down a touchdown, four times down by two scores. Also four times, Josh Freeman touched the ball for the first time with a 7-0 deficit.
That doesn't provide an excuse to turn the ball over, but it certainly doesn't help.
But we have to be honest, even as a Josh Freeman fan, you have to admit he had a bad season. There were some bright moments, thought they were overshadowed by 22 interceptions. So what happened?
Quite a bit of those 22 picks were tipped balls by a wide receiving core full of No.2 WRs and no legit No. 1 guy. Josh Freeman himself admitted the Kool-Aid he drank from 2010 gave him too much confidence and he tried to squeeze the ball into places he had no business attempting.
We know every quarterback missed offseason OTAs, but one of the biggest reason's Josh Freeman improved from 2009 to 2010 was because the massive amount of studying and preparation during the OTAs paid off during the year. Freeman greatly missed last summer.
There is a reason the entire coaching staff was let go, some of these assistant coaches were straight 'basuda' for our Spanish speaking Joes!  Where was QB Coach Van Pelt during this season? Olsen? Coaching him to not throw of this foot, Squeeze passes in, whatever?
Anyway you look at it, Freeman was not a good QB this year, not at all. But that doesn't mean he won't be. My goodness, think about all of the holes on this team, and some people want to use the top pick in the draft for Robert Griffin III? You want to do 2009 all over again? Over one bad year?
You don't throw away a franchise QB over one bad season, especially when its been shown to happen before. Both Peyton Manning AND Big Ben from Pittsburgh had bad third seasons, tossing up plenty of interceptions. Freeman is only 18 months older than Andrew Luck, and five more months than that over Robert Griffin III. Look how long the 49ers stuck with Alex Smith and they are the No.2 seed.
And for those that criticized Morris for not pulling Freeman like Blount, you don't pull your QB over interceptions. QB is NOT running back. You can find a running back on a street corner (Blount), a franchise QB? Not so much.
Bottom line: with so many needs on this team, you don't even think about pulling the plug on Freeman, and if you can find me ANYONE who writes or works for a reputable network who agrees with you, you'll be the first one to find that person — because the concept is plain silly and ignorant.
Get some linebackers, running backs, corners, etc., and coach up the guy who has nine fourth-quarter comebacks on his resume.