It's Mike Zimmer For Steve White
January 17th, 2012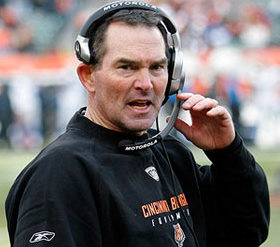 Yesterday, former Bucs defensive end Steve White had a chat with the co-hosts of Primetime on WHBO-AM 1040, Ronnie Lane and Tom Krasniqi, to discuss all things NFL and the Bucs' coaching search.
Of the names that have been linked to fill the void left by jettisoned coach Raheem Morris, White is fond of Cincinnati defensive coordinator Mike Zimmer.
"The list probably isn't the list," White said of the current known candidates. "As teams keep falling out of the playoffs, the list will get longer and longer. The Carolina coordinator (Mark Chudzinski), I'm not that high on as a head coach but he did do a good job with cam Newton. I am definitely a [Mike] Zimmer fan. You can never tell how a coordinator [makes the transition] to a head coach, how it will turn out. But [Zimmer] has experience and a resume of a guy that will get him in here and turn it around.
"He's a go-getter. He's not a polite Mr. Nice Guy, which I like. He's a get-in-your-butt kind of a guy. He would lead my pack. I really would like it if you can bring that guy in as my head coach."
Zimmer "is well respected around the league and bringing in a staff won't be a problem because he has been around a while. He probably has a good idea of what he wants on a staff and has a good chance to reach out and get them. He has a good personality for a head coach. He's a good disciplinarian.
"I'm not banging the table for the guy, but of the guys we have heard of on the list so far, he would be my favorite."
Later, White added, "retreads are not a long-term solution."