"It Wasn't A Good Locker Room To Begin With"
January 26th, 2012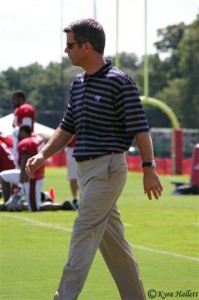 When the Bucs walked off the field in 2010, after a 10-6 record, what was wrong with their locker room?
Joe struggles to find an answer to that question. But Tampa Bay Times beat writer Rick Stroud says the Bucs locker room was subpar entering the 2011 season and Mark Dominik didn't do enough to fix it.
Speaking yesterday on NBC Sports' Pro Football Talk Live, starring Mike Florio, Stroud explained that the Bucs' rockstar GM told him he didn't feel comfortable bringing in free agents when the lockout ended because there wasn't enough to time to be sure the free agents were a good fit with the roster. Stroud scoffed at Dominik's decision-making saying, "it wasn't a good locker room to begin with."
Again, Joe's not able to find what exactly was wrong with the Bucs' locker room, per Stroud's logic, when the asinine lockout ended in late July. The Bucs were "yungry." The Bucs were one of the more unified teams during the lockout. The Bucs were confident. The Bucs had their share of veterans in the locker room, especially on the offensive side of the ball. The Bucs had second-year players with lots experience. The Bucs marched out to a 4-2 record with wins against Atlanta and New Orleans.
Obviously, Dominik can be skewered in hindsight for not providing the Bucs enough depth. But the 2011 locker room was bad before the season started? Joe's just not buying that.