Greg Schiano The Mystery Candidate?
January 26th, 2012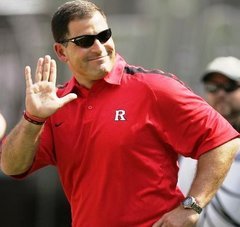 OK, Joe would never run with a wild rumor unless he somewhat trusts the man (woman?) who comes up with the information.
Darek Sharp of WDAE-AM 620 is reporting that the Bucs' mystery candidate is Rutgers coach Greg Schiano.
Now Joe knows that per WDAE guidelines put in place after the Team Glazer/Bernie Madoff nonsense, anyone at the station who reports a breaking story must have two independent sources. Also, Sharp has a background in newspapers, so Joe trusts his standard of ethics.
Now Schiano is an interesting candidate. He brought Rutgers from the ashes into a consistent Big East title contender. Many thought he was the leading candidate to replace Joe Paterno whenever he retired/died, but Penn State decided to go outside the box and hire an NFL assistant with a pathetic college record.
Schiano worked for both Paterno as a defensive backs coach and Butch Davis at Miami as a defensive backs coach. Schiano also was a secondary coach with the Bears in the late 1990's.
Time will tell if Schiano is the next Bucs coach but it is an interesting choice.