Greg Schiano Owes Rutgers Significant Cash
January 28th, 2012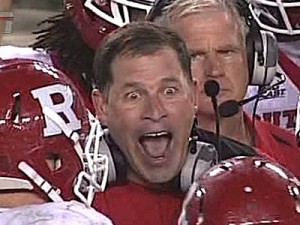 Now Joe is as content as the next Bucs fan that Team Glazer and rock star general manager Mark Dominik hired Rutgers coach Greg Schiano.
If ever an NFL team needed discipline and guidance the way Schiano can provide, it is the Bucs.
But Schiano leaving New Jersey is proving to be pricey. Bloomberg suggests that Schiano, by leaving the Garden State, owes Rutgers some $800,000.
Schiano, who was head coach at the New Brunswick, New Jersey-based school for 11 seasons, is obligated to pay a $500,000 buyout plus the $300,000 remaining on a home loan contained in his most recent contract in 2007, Jason Baum, a Rutgers athletic department spokesman, said in an e-mail.

The loan, originally $800,000, was forgiven $100,000 for every year he stayed with the team. He made $2.03 million including bonuses in the fiscal year ended in June.
Whew. That's a lot of dough. This tells Joe Schiano really, really, really wanted to take over the Bucs.