Blount, Teammates Join Schiano
January 28th, 2012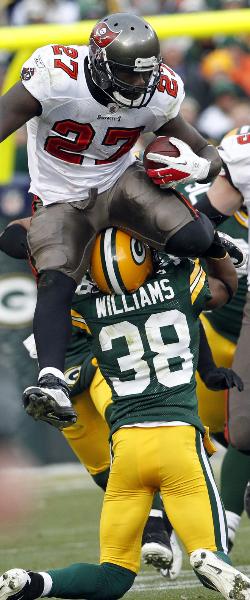 The big cover photo on today's Tampa Bay Times front page is one of LeGarrette Blount talking at One Buc Palace with new head coach Greg Schiano.
This warmed Joe's heart and actually got him a little fired up for Bucs football again. Joe suspects Schiano won't screw up opening day like the last head coach — opening day — and only run Blount five times and say after the game that "we got away from the run too early."
Surely Schiano can see that Blount is a massive weapon that the Raheem regime couldn't figure out how to maximize.
Joe, also, was somewhat impressed that Blount was in attendance at the news conference to introduce the head coach. That's a nice show of dedication. Joe surely can't fault any Buccaneer for not being there, considering there was only 24 hours notice and players could be anywhere in the world. But Blount wasn't the only player sizing up the new boss in person.
Joe has confirmed that Arrelious Benn, George Johnson, Josh Freeman, Cody Grimm, Luke Stocker and Jeff Faine also showed up. (Imagine that. Jeff Faine seeing the value in bonding with his teammates without actually blocking anyone.) Bucs icon Mike Alstott also came to hear the new ball coach.
Speaking of icons, yesterday Schiano talked briefly about coaching against Derrick Brooks, John Lynch and Warren Sapp when he was a Bears coach, and about how important it is to embrace the greats in team history.