Could Today's Result Matter?
January 1st, 2012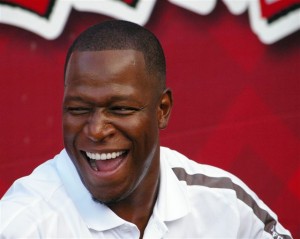 One could assume that Team Glazer already has made a decision on Raheem Morris' future. It seems logical that Raheem showed enough in 2011 to have been evaluated objectively already, so the team can move seamlessly beginning Monday into its 2012 season.
But who is Joe, or any fan or media type, to predict how Team Glazer will judge its head coach? Joe surely has no clue how Team Glazer will proceed.
So that could mean today's result in Atlanta will be a factor in the future of the coaching staff. Joe wouldn't care either way; Joe's seen enough to know the Bucs have suffered from some awful coaching. But ownership and Mark Dominik might have a different attitude.
Perhaps the Bucs end up playing a motivated Atlanta team eager for a higher playoff seed and the Bucs put a beating on them and shock the NFL, and the players douse Raheem with Gatorade and make a postgame case that losing is behind them.
Joe realizes the above scenario is about as likely as Joe getting a job shaving the Hooters Calendar ladies before next year's shoot, but it is possible.
And it's also possible that Team Glazer is still evaluating the future of its head coach.