What's The Deal With Josh Freeman?
December 13th, 2011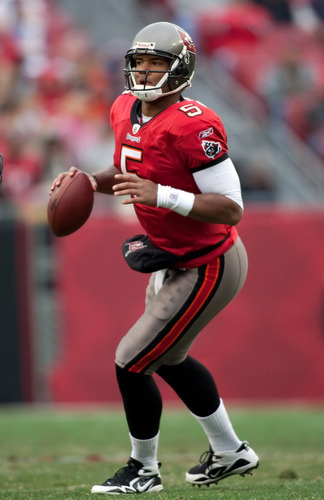 Last year Josh Freeman put up gaudy numbers that made Bucs rock star general manager Mark Dominik look like a genius. Freeman, in just his first full season as the Bucs signal-caller, became the comeback kid with his fourth quarter rallies and his eye-popping touchdown-to-interception radio.
But this season Freeman has crashed landed into the depths of Trent Dilfer-like numbers if not worse, harrowing as that is. Freeman leads the NFL in interceptions, more than Rex Grossman and Tavaris Jackson of all people, if you can imagine such a thing.
This had led Tampa Tribune humorist Martin Fennelly to wonder if Freeman really is the answer at quarterback for the Bucs.
It's impossible to not give Josh Freeman high marks for toughness after Sunday in Jacksonville. But there's no way around it being one of the worst losses in recent Bucs history, and his fingerprints were all over it along with his bad shoulder print.

So, where does he stand?

We're at the point, near the end of his second full NFL season, when we're beginning to wonder if this is the learning curve or a step back. It looks like the latter.
Joe would suggest both.
Look, this season is a lost season and the best thing to come out of it will be the Bucs' first round draft pick in April (Mo Claiborne, please.) But Joe will take you to the not-so-way-back-machine.
Several times Joe noted that it's very possible that thanks to the asinine lockout, coaches had little to do but study video, both of college prospects and of NFL foes. Joe is quite certain opposing defensive coordinators pored over video of Freeman and Mike Williams and Arrelious Benn to scheme ways to not just throw them off but shut them down.
The Bucs troika simply hasn't been able to adjust yet.