Welcome To Blount Bashing
December 2nd, 2011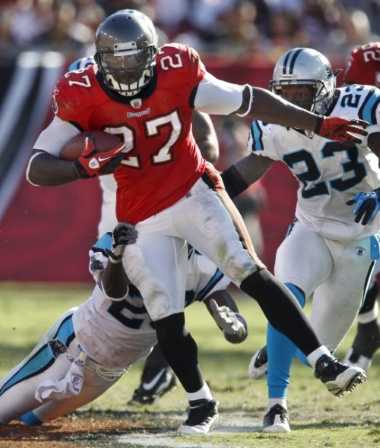 ESPN NFC South blogger Pat Yasinskas cranked out a column yesterday firmly explaining his take on the worst team in the division; this came as part of a preview of Sunday's division-dungeon bowl, also known as the Panthers-Bucs game.
Joe started reading this piece but barely finished. Yasinskas was bashing and misrepresenting LeGarrette Blount, and for Joe that means Yasinskas either isn't watching Bucs games, is sniffing common household cleaners, or has it out for the Bucs.
Here's a small sample (not of the cleaners, but of Yasinskas' head-shaking content.)
Freeman, who threw 25 touchdowns and just six interceptions last season, hasn't been able to hit targets. Mike Williams, who looked like a No. 1 receiver as a rookie, has turned into the second coming of Michael Clayton. LeGarrette Blount, who ran for 1,000 yards in half a season in 2010, might need a season and a half to hit that mark again, which might coincide with the moment he finally learns to pass block.

People talked about Freeman, Williams and Blount as "The Triplets" last year. I still think Freeman has a world of potential, but it's looking like he might end up being an only child. On defense, the Bucs have a lot of draft picks and money invested in their defensive line.
Joe truly apologizes for putting you through that passage.
First, if Yasinskas had bothered to use a calculator, he'd have seen that Blount already is on pace for a 1,000 yard season in 2011, assuming the Bucs hand him the ball an average of 15 times a game. Hitting that amount of carries wouldn't satisfy Joe, but it's a safe bet Blount will get that many carries. 
With so many available ways to hammer the Bucs for their performance, why would Yasinskas recklessly come after their most explosive weapon, Blount, who is having a good year? Frankly, Joe's embarrassed for his profession.
As for calling Mike Williams the second coming of Michael Clayton, that's quite a reach. Nobody's nearly as bad as Clayton. In Clayton's sophomore season he caught 32 balls and zero touchdowns. Williams has been playing better lately and already has 53 catches and three touchdowns in his second year.
The Bucs have serious issues, but Blount and Williams surely aren't part of the problem.