THE OPTIMIST: Time To See Fresh Faces
December 2nd, 2011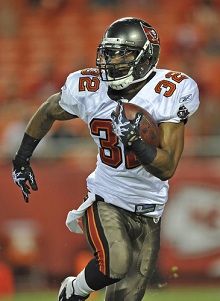 You've all read THE PESSIMIST, who spews his Bucs-related anger like no other. But Joe also brings you THE OPTIMIST. 
THE OPTIMIST is Nick Houllis, a Bucs fan and an accomplished writer whose steadfast allegiance to the Buccaneers goes back to the 1970s. Houllis is the founder, creator and guru of BucStop.com, a place Joe goes to get lost in time via Houllis' stunning video collection.
THE OPTIMIST will shine that positive light in your eyes. Some will love it. Some won't.
The Bucs have gone from 4-2 to an unbelievable 4-7 record, and while the playoffs are not completely out of reach due to the losses of the Bears and Giants in Week 12, the Bucs are three games out of a Wild Card spot.
With only five games remaining, it's unlikely that's within reach, but it's important not to give the team the message "We're giving up!"
As far as what Bucs take the field, we already know what E.J. Biggers can do (or rather cannot do, as in tackle). We already know about Myron Lewis, though maybe we need to see a little more. But what about the young guys that the future of this secondary depends on? Larry Asante was picked up last year, and we're to guess that he's not playing because he is not as good as the rest, but maybe Asante is one of those players who come on when the lights do?
How about Anthony Gaitor, the rookie from Florida International the  Bucs drafted this season? Number 24 has only been seen a few short  times, against New Orleans at home and against the 49ers, where he  recorded one solo tackle in each.
Mossis Madu should be given some time at tailback if he's capable of  blocking for Josh Freeman on thrid downs, otherwise Blount should be given  more time and Freeman should be told to be alert, so he doesn't turn into a splat on the ground like Tony Romo last year.
As we saw in typical fashion Sunday, Kregg Lumpkin cannot be counted on as a running back. His failure to pick up a solid foot on 3rd down in the  fourth quarter was just one example of his poor ability to run the ball. We just don't want to see Freeman get hurt.
Speaking of Freeman, if he keeps locking in to No. 82., then take Kellen Winslow Jr. out and put in Luke Stocker so we can see what he offers. He seems to have good hands, and he's the future at tight  end, Lets see if this ends up being an improvement or not. Stocker  was taken high in this year's draft, he is a premium pick, play him,  start him, use Pianalta for two TE sets for blocking, because we all  know K2 cannot block, and when he tries, yellow ensues.
The Bucs don't have to do all of these things at once. Maybe  implement one or two players each game along the way.
Next season is going to require at least a few free agent acquisitions, and Bucs fans are NOT going to cheer another speech by Mark Dominik on how the Bucs are going to entirely with the draft.
Otherwise the stadium will be empty and frankly, Raheem Morris wouldn't survive another underachieving season.