"They Are The Most Undisciplined Team."
December 31st, 2011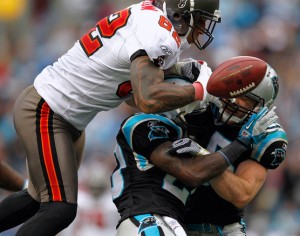 Yesterday while Joe's good friend Justin Pawlowski pinch-hit for the dean of Tampa Bay sports radio, "The Big Dog," Steve Duemig, Pawlowski had a discussion about the Bucs with noted football consultant and former NFL and NCAA coach Chris Landry.
Like just about the entire football world, Landry is shocked at how the Bucs season not just crumbled, but is in a grotesque tailspin. Some argue the Bucs are the worst team in the NFL currently, despite starting the season 4-2 with strong wins over playoff teams.
Landry tried to be delicate and polite, but Landry's careful words were loaded negativity. Landry appears locally on WDAE-AM 620 each Friday afternoon for a must-listen for football junkies like Joe.
"The thing that concerns me the most is the players are saying they are going to play for their coach," Landry explained of the curb-stompings the Bucs have been victims of. "So go do it!"
Landry went on to add a very damning comment, "Right now they [the Bucs] are the most undisciplined team in the league, more so than the Raiders."
It doesn't take a trained eye to see there is some disconnect between Morris and his defensive troops. What has caused that or why it exists is currently a mystery.