The Worst Defense?
December 5th, 2011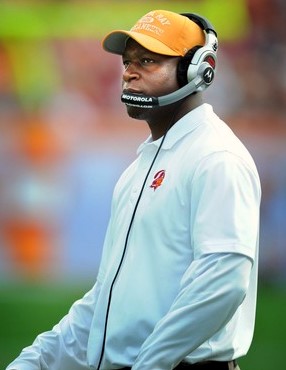 In one of the more scathing pieces Joe has ever read from veteran columnist Gary Shelton, the St. Petersburg Times fixture laid all his cards on the table, calling the Bucs current defense one of the worst in team history and boldly suggesting the defensive coordinator needs to answer for it.
For those a bit confused, Bucs head coach Raheem Morris is also the team's defensive coordinator.
For a quarter of a century, it has not been this bad. Think about that for a minute. The Bucs are on pace to surrender more points per game (27.4) than any Bucs defense since Leeman Bennett left town.

Ray Perkins' teams never gave up this many. Richard Williamson's defense never gave up this much. Sam Wyche's teams never gave up this much. At this pace, the Bucs will give up 438 points this season. Only twice ('85 and '86) have they given up more. …

This performance should be below any level of acceptance and beyond any attempt at rational. Three years into a coach's tenure, this should be intolerable. The Bucs cannot tackle, cannot cover and cannot remain disciplined. Yes, they are young. But five minutes ago, wasn't that a good thing? Weren't they young when they jumped to a 3-1 start?
As sort of a punctuation, Shelton also wrote, "Just wondering here, but shouldn't it have been Brian Price who sent Raheem Morris home?"
As Joe has stated several times, it's becoming more and more clear that Morris needs help. If he doesn't want to give up the reigns of being defensive coordinator, then someone higher up at One Buc Palace should hire one for him.
This is not a total knock on Morris. The rigors and responsibilities of being a head coach are many and adding the duties of defensive coordinator to that mix may have Morris stretched too thin.
In not quite three seasons, Morris' defenses have been ranked (as in yards allowed per game) 28th, 17th, and 31st.
Could it be that no offseason could affect this team this much? Or have the players simply tuned out?