"That Is A Dreadful-Looking Team"
December 5th, 2011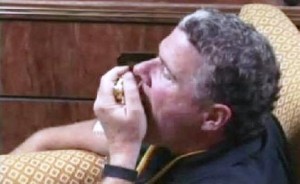 The media vultures are eyeing Raheem Morris not just locally, but nationally as well.
This morning the heralded Peter King, NFL guru of NBC Sports and Sports Illustrated, has seen fit to weigh in on the potential Tampa Bay demise of Raheem Morris in his must-read Monday Morning Quarterback column.
7. I think I would be surprised if Raheem Morris isn't in trouble right now. That is a dreadful-looking team, and Morris kicking defensive tackle Brian Price off the sideline after his personal foul in the third quarter just shows the unraveling of this team in the last few weeks. Morris called Price's behavior foolish, selfish and terrible. That's six losses in a row for the Bucs. One looks worse than the next.
King also was no fan of Raheem taking a verbal swipe at the Panthers after the Bucs got clobbered Sunday.
"I can take getting beat by a better football team. I wish they were."

— Tampa Bay coach Raheem Morris, on the Carolina Panthers.

Hmmm. Panthers beat the Bucs by 19. Panthers outgained the Bucs by 100 yards. Josh Freeman was sitting with an injury, yes. But I wonder how Ron Rivera's going to take being demeaned like that after a 38-19 road victory … particularly with the Bucs visiting Charlotte in 19 days.
These surely are hard times for Raheem. And they'll get so much worse if the Bucs can't find a W in Jacksonville.