The Bucs And Effort
December 26th, 2011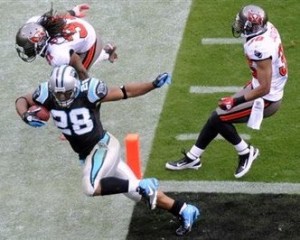 Now the past few weeks Joe has heard a lot about players "quitting," which is a damning accusation for a professional football player.
Joe is not one to point fingers and say "Player-X tanked it" because without foolproof evidence like that of Dallass defensive back Michael Jenkins, it's hard to know what is in said player's mind or heart.
But Ashley Fox of BSPN seems to be jumping on the bandwagon, saying the Bucs quit; adamantly so.
The Buccaneers did quit. It likely will cost coach Raheem Morris his job. If the players really liked playing for the 35-year-old Morris, they would not have laid down the way they did against Carolina. They allowed the Panthers to drive down the field on their opening possession, and it just got worse from there.

The Bucs trailed 20-10 at halftime but allowed Carolina to score 28 unanswered points out of the break. They allowed the Panthers to score on fourth-and-1 from the 11-yard line, gave up a 41-yard touchdown run to quarterback Cam Newton, lost a fumble on the ensuing kickoff and gave up another touchdown two plays later.

A team that wants its coach to retain his job doesn't lose a division game 48-16.
Joe believes Fox's last sentence the be the most accurate. You always hear Bucs players suggest they like playing for Morris and enjoy him. But it doesn't appear they are playing with the fire to save their coach's job.
That's a big difference from quitting.