Talib Returns To Practice
December 13th, 2011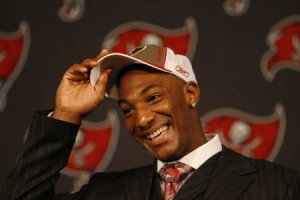 It looks like Aqib Talib won't be dancing, vibing and pumping up his teammates on the sidelines on Saturday night.
Injured Talib returned to practice today with his bum hamstring and Raheem Morris was impressed, with high hopes for Talib's return to the field.
"He actually went out and did a lot. He went through a full battery of practice," Raheem said.
Before popping his hamstring a few plays into the Bucs-Carolina game, Talib had played his best two games of the season.
It would be quite a shot in the arm for the Bucs to have Talib back on the field. They'll need at least a few big plays on defense to be competitive Saturday against Dallas.