Returning Raheem Is "Ludicrous"
December 26th, 2011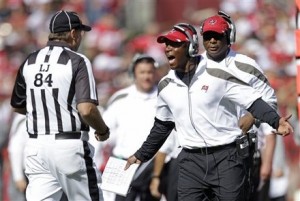 The ESPN pitchforks are sharpened and its jabs are coming hard at Raheem Morris.
Pat Yasinskas, the Disney outfit's NFC South blogger/beat writer, says keeping Raheem under any circumstances is "ludicrous," so he penned after the Bucs' beating at Carolina.
I know there's a small minority out there who say Morris should keep his job, replace himself as defensive coordinator and make a switch at offensive coordinator. Yeah, that's brilliant and no doubt would put the Bucs straight into the Super Bowl next season. Actually, it's ludicrous. It's like having a refrigerator that hasn't worked in more than two months and saying, "No need to call a repairman or get a new one because this thing just might kick in at any moment."
Joe often disagrees with Yasinskas, but not here, though Joe finds the refrigerator analogy a bit off the mark. For Joe, four straight blowouts, three straight home blowouts, nine straight losses, and widespread acceptance that the Bucs aren't giving their all, is enough to end any coach's reign.