Questioning "The Plan?"
December 27th, 2011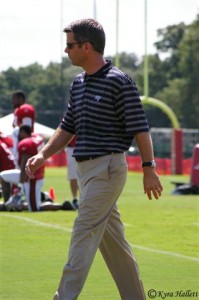 After firing their first two coordinators, changing their defense and then deciding to shun free agency, the Bucs' plan for this regime became very straightforward.
In short, the goal was to stay young while building around Josh Freeman and loading up on top-tier draft picks on the defensive line, and all that would happen while the coaching staff grew together, players would gel, leadership would evolve, and time would show what young players could play and dictate what holes to fill via future free agency and drafts.
It sure seemed like the plan — agree with it or not — was on the mark after the Bucs starting winning at the end of 2009, went 10-6 last year, and came out with impressive wins against New Orleans and Atlanta this season en route to a 4-2 record. (Imagine that, 4-2 after no OTAs.)
Then the wheels fell off and players stopped playing hard and clearly tuned out their coaching. But does this mean the plan itself was bad, or just the coaching? Joe has written many times that the failures of the coaching staff far outweigh the problems with the plan and the talent level.
But Bucs beat writer Rick Stroud, of the St. Pete Times, seems to have a different view, so he said on The Dan Sileo Show today.
"When you watch what's gone on, you realize that the plan was never a great one," Stroud said.
Joe realizes the plan vs. coaching debate is likely to rage on through the Bucs offseason. But Joe really doesn't get how one can blame a plan on players quitting on their coaches and a team collectively being unresponsive to its coaching.
As Joe has written numerous times, the essence of coaching is to get the most out of your players regardless of their talent. It's 100 percent clear that Raheem Morris has not done that.
What's not clear is that "the plan" — the one since mid-2009 — is bad. Have there been bad decisions? Absolutely. But Joe's hardly sold on the Bucs' plan being worth throwing overboard with the coaching staff.