More Wet Balls = More Blount Fumbles
December 12th, 2011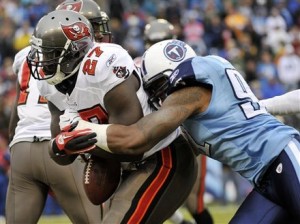 Down 28-14 in the third quarter yesterday, LeGarrette Blount tried to put the Bucs on his back.
It was the opening snap of the Bucs' second drive of the quarter and Blount rumbled 23 yards, mauling would-be tacklers and refusing to go down. But just like what plagued him on a cold wet day in Tennessee two weeks ago, Blount didn't hit the turf early enough and got stripped leading to another Bucs turnover, though Joe really though the replay official would have overturned the call.
Joe loved seeing Blount try to will his team to victory, but it was a downer watching Blount fail to figure out again how to be cautious with a wet ball. He coughed up two yesterday and two against the Titans. Last year, rainy Washington D.C. cost him a fumble, as well.
Blount's fumbles yesterday were a great example of a young player's growing pains, but an even bigger example of the Bucs' coaching staff not getting through. Whether it be penalties (12 yellow flags yesterday), blown gaps or whatever, the Bucs aren't responding.