More Local Buzz About Raheem's Hot Seat
December 3rd, 2011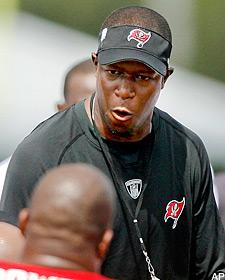 In what seems like a statement of the obvious, veteran Tampa Tribune scribe eye-RAH! Kaufman added more media heat under Raheem Morris today via the TBO.com Bucs Twitter account.
Kaufman says Team Glazer will be scrutinizing all things Bucs and Raheem Morris during the final 29 days of the season.
@TBO_Buccaneers:  Ira: Bucs ownership will be looking for signs of improvement in the final 5 games. Otherwise, Raheem Morris could be out after 3 seasons.
On Monday, it was St. Pete Times scribe Rick Stroud talking about Raheem needing to win games to guarantee his survival. A couple of days ago it was a TV talking head asking Raheem about his job security during a news conference. Two weeks ago, it was former NFL executive turned NFL Network guru Mike Lombard skewering Raheem, to which Raheem responded with a clown reference.
For Joe, these theatrics are completely expected for a head coach mired in a five-game losing streak, a guy who also is a defensive coordinator of an atrocious defense.
Again, Joe's not thinking Kaufman is sending any coded messages from Team Glazer. Raheem simply needs to win and get his guys improving in a hurry. Otherwise, Joe's not seeing how fans or ownership could have any confidence in Raheem's ability to turn things around next season.