"Like Getting A Whipping From Your Dad."
December 8th, 2011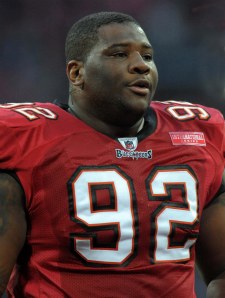 Last Sunday, Bucs coach Raheem Morris shocked the NFL landscape by running defensive tackle Brian Price from the stadium for a personal foul he committed.
It was a move rarely seen outside of high school sports. Morris was so perturbed by Price he let fly a foul expletive in his postgame press conference.
The stunt shook Price. Yesterday was the first time Price had a chance to discuss the incident with the Bucs pen and mic club and he likened it to corporal punishment from his father, so tells eye-RAH! Kaufman of the Tampa Tribune.
"It's kind of like getting a whipping from your dad," Price said Wednesday. "You don't really take it too personal. He's my coach and I love him to death. I love playing for him and I love the team and I just want to apologize to the owners and (GM) Mark Dominik and Raheem. I let my emotions get the best of me."
Time will only tell if this was a too-late-made shot across the bow by Morris or if it backfires given that other players on the roster have committed far greater sins, and apparently there have been few in any repurcussions.
Fortunately on face value, it seems Price is taking it the correct way, as an educational tool.