Dropping The Ball
December 7th, 2011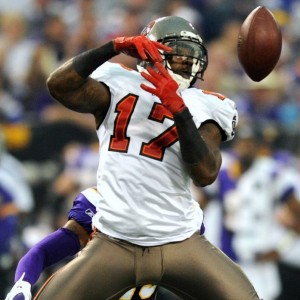 There are all sorts of elements to discuss about how the last-place Bucs season is circling the drain.
No linebacker play to speak of, inability to stop the run up front, lack of big play-making ability in the secondary, an erratic passing game… Joe could go on.
But the stat geeks of BSPN regurgitate numbers and in some cases, some interesting elements can be found, as has Pat Yasinskas.
The Bucs are third in the NFL in dropped passes, and two of the main culprits are the two prizes of the 2010 draft, Mike Williams and Arrelious Benn.
After that, there's pretty strong representation for the NFC South in the top 10. Tampa Bay's Mike Williams is tied for third with seven drops. His teammate, Arrelious Benn, is tied for No. 7 with five drops.
Of course this information is not all bad from Yasinskas. Who are the Bucs tied with for dropped passes? The Dixie Chicks, who appear to be on the verge of another postseason berth with the Bears and the Lions doing their best to tank their successful seasons.