Injuries Continue To Plague Talib
December 4th, 2011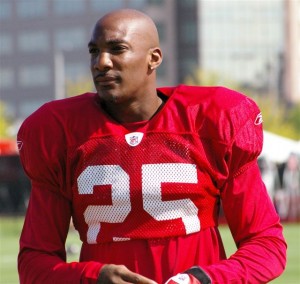 Forget about the pending felony assault charge and his past transgressions, Aqib Talib just isn't that valuable because he's hurt every year.
Hamstring injuries, knee trouble, and a freak hip injury have limited Talib and kept him out of a lot of games over the past three seasons.
He was playing stellar football the past two games before leaving the field early in the first quarter today with more hamstring issues. Raheem Morris confirmed the injury after the game on the Buccaneers Radio Network. Joe saw Talib pop that hammy and couldn't help but think of one of his favorite Buccaneers, linebacker safety Jermaine Phillips.
The heralded matchup of Steve Smith and Talib never materialized. It turned out E.J. Biggers did a very solid job on Smith.
Talib is signed for next season, and Joe would expect he'll be back, assuming he's not found guilty in Texas. Joe's just not sure Talib's persistent injury troubles make him part of the long term.