Good Award For A Better Guy
December 30th, 2011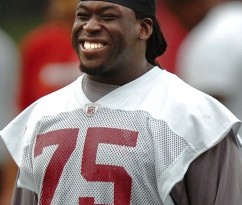 Better late than never.
Yeah, Joe knows that Bucs guard Davin Joseph made the Pro Bowl. In Joe's eyes, the honor couldn't happen to a better guy.
Joseph is a quiet and humble dude and not many know this but Joe's going to let the cat out of the bag: Joseph does a lot of work in the offseason and donates quite a chunk of change to various community projects.
One of those projects is the athletics program at Blake High School where Joseph offers his time, and thousands of dollars, to help innercity youngsters get a needed boost for their lives after school.
Joe was unaware of this prior to a Friday night this fall. As many of you know, Joe still dabbles in the MSM on a freelance basis. One client has Joe cover local high school football.
Joe just happened to be at Blake High covering a football game when, late in the second quarter, Joe felt a nudge on his back and heard, "Hey man, I know you are busy, I just wanted to say 'Hi." It was Joseph with that big ear-to-ear grin of his. Joe was taken aback that Joseph was there and chatted with him briefly. Joseph was honored by the school at halftime for all of his help.
That's the kind of guy Joesph is. He could big league 99 percent of this area, but he wants to be a part of the community, just like you and Joe.
After games, tough losses or exultant wins, Joseph is always willing to chat and offer some smart, thoughtful opinions about a game.
Yes, Joe knows readers generally do not give a hoot who talks to the press, but when Joseph or any player talks to the press, he is indirectly talking to fans, not to media.
Joesph is a stand-up dude and Joe is proud that a guy like that, a guy who cares about the community, a guy that rolls his sleeves up and gets involved in the community, is also honored for his play on the field.
He was already a Pro Bowl player for the Tampa Bay area.