Gameday Tampa Bay
December 4th, 2011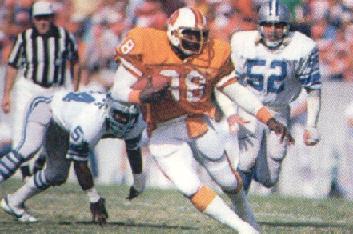 Week 13
Kickoff: 1 p.m.
TV: Blacked out locally. Outside the Tampa/Orlando TV markets, the game can be viewed on DirceTV Channel 711. The game can also be enjoyed after midnight via NFL Sunday Ticket's Short Cuts and on NFL.com.
Radio:Buccaneers Radio Network (in Tampa WFUS-FM, 103.5 and WDAE-AM, 620); Sirius Channel 117.
Weather:
Per
Accuweather.com
, this is why we live in Florida. While the rest of the nation is shivering if not freezing if not shoveling snow, near-record temperatures are expected today under clear, sunny skies. Temperature at kickoff will be 77 and will quickly climb to 80 before slowly dropping to 77 by game's end.
Odds:
Per
Vegas InsiderSportsBook.com
, Bucs -2.
Outlook:
First, props to Jimmie Giles for his induction this afternoon into the Bucs Ring of Honor. Joe hopes all Bucs fans are wearing orange to some degree to honor the former great tight end. … OK, want a broken record, here we go: If Bucs running back LeGarrette Blount does not get 25 touches today, we should all have indigestion. Josh Freeman is hurt. How much or whether he plays, we will soon find out. To not use your best offensive weapon is no less than sinful. Throw in the fact the Panthers have a garbage defense, and it only stands to reason that Blount get the ball no less than two times each series of downs. Also, let's be honest: The Bucs defense is nothing to make Warren Sapp and Derrick Brooks smile about. Cam Newton is dangerous. The more he has the ball the better chance of his burning the Bucs, or the Panthers punishing the Bucs with their bruising ground game. How do you keep the ball away from the Panthers? Run LeGarrette Blount. If the Bucs fail to give Blount the ball and lose, Joe can hear the screeches of the vultures already.